Introduction
The CERN Analysis Facility (CAF) is a cluster at CERN running PROOF. It can be used for prompt analysis of pp data as well as selected PbPb data. Furthermore calibration programs can be run on the CAF.
PROOF
PROOF (Parallel ROOT Facility) allows interactive parallel analysis on a local cluster. Interactive means that you see the results right away (contrary to a batch job where you have to wait for the job to finish before you see the results). Parallel means that several nodes execute sub sets of your data at the same time.
You connect to a PROOF system from your usual ROOT prompt. Using PROOF is aimed to be transparent, that means you can execute the same analysis code locally and on a PROOF system. Of course, certain rules have to be followed.
A schema of a PROOF system can be seen here: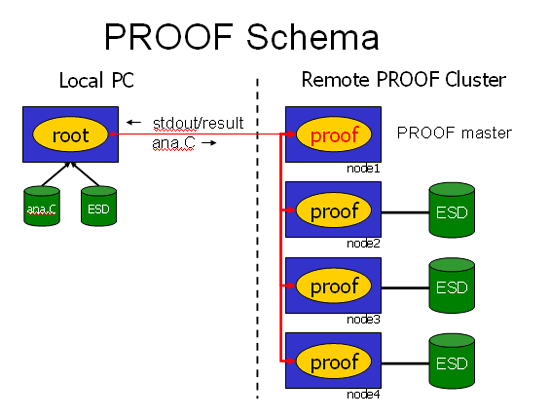 For more detailed information about PROOF see Distributed Data Analysis with PROOF (Fons Rademakers).
The CERN Analysis Facility (CAF)
The CAF will run PROOF for ALICE. Simulated data (e.g. from PDC06) and measured data, once ALICE starts data taking, is available on the CAF. It can be used to perform analysis and calibration. The aim of the CAF is conceptionally different from analysis on the Grid. The CAF will not make it possible to analyse all data taken by ALICE because its space is limited. However, it is possible to run an analysis and see results after a few minutes or even seconds, thus allowing very fast development cycles.
The design goal for the CAF is a system with 500 CPUs. At least 50 TB of selected data will be available. The CAF will also interface with the CERN Castor 2 disk cache to retrieve data selected for analysis.
A schema of the CAF can be seen here: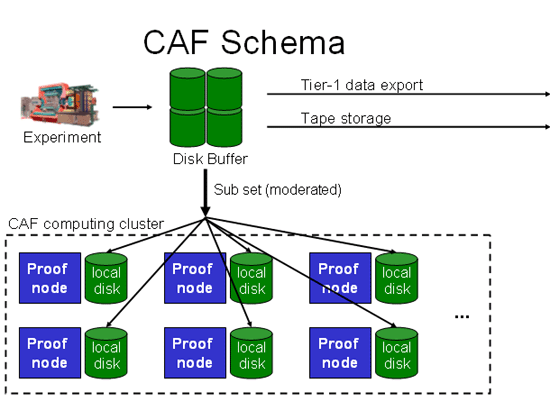 CAF user information
Detailed information on ALICE Analysis Facilities (AAF) and CAF is available at the AAF web site.
Several quick links:
1. The complete user manual
2. How to connect to CAF
3. Where to get support
4. News ticker
5. Monitoring of all analysis facilities (see if the AF you are using is green before asking for help)

Join the mailing list alice-project-analysis-task-force@cern.ch to get news and talk to your fellow CAF users.